Brintnell Pharmacy and Travel Clinic opened for business in April 2019, in the peaceful community of Brintnell. Our pharmacists, pharmacy technician and pharmacy assistants are committed to serving you and helping you feel better through the services and products we have to offer. 
To provide our pharmacy services in a caring, friendly, respectful, and personalized manner in order to enhance the well-being of our patients.
To be the foremost pharmacy in our community by providing superior patient care and customer service experience.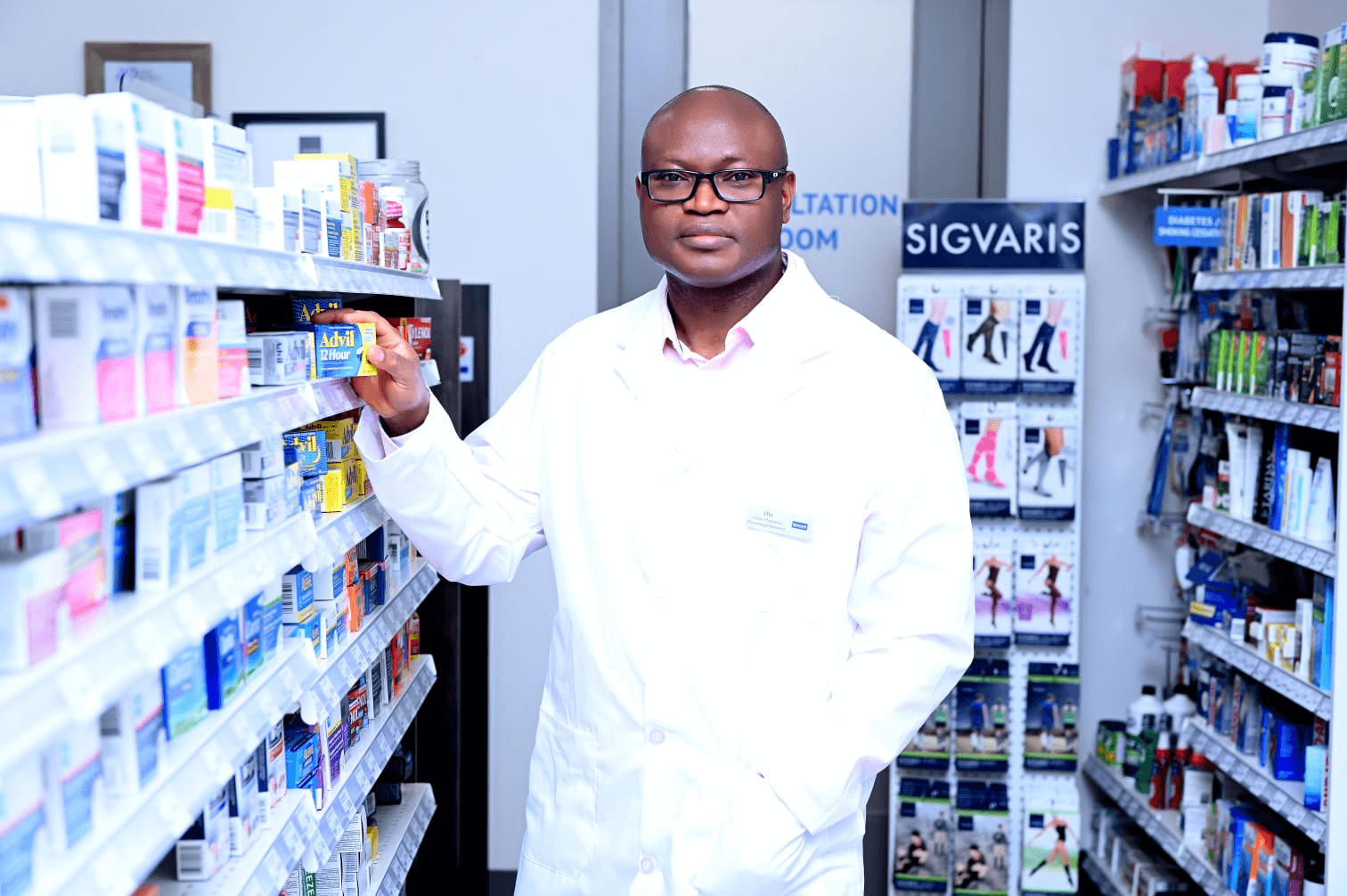 Oluwaseun Agunbiade (aka Olu), Owner-Pharmacist / Pharmacy Manager
As a young teenager I always knew that I wanted to work in the healthcare field, either as a medical doctor or a pharmacist. Eventually, I opted to study pharmacy. I have over 20 years work experience in the pharmaceutical industry, hospital, and community pharmacy practice.
When I arrived in Canada in the year 2012, I chose to practice in Alberta, as this province has the widest scope of practice for pharmacists in Canada, and in the world. I am a preceptor for the PharmD students of the Faculty of Pharmacy and Pharmaceutical Sciences, of the University of Alberta, for International Pharmacy Graduates working towards getting a pharmacist practice license in Alberta, and for students enrolled in the Pharmacy Assistant Diploma Program, in schools such as CDI College and ABM College.
I believe strongly in the principle of altruism and coupled with my love and passion for the well-being of my patients, I strive always to improve and increase my clinical knowledge and skills to be able to give the best patient care possible, in collaboration with my patients and other healthcare professionals.
Listed below are the credentials I possess which provide you and your loved ones with the most knowledgeable, comprehensive care at your local pharmacy:
Bachelor of Pharmacy
Alberta Registered Pharmacist
Additional Prescribing Authorization
Certified Injection Pharmacist
Certificate in Travel Health – International Society of Travel Medicine
Certificate in Hypertension Management – Hypertension Canada
Certificate in Tuberculin Skin Test Administration & Interpretation
Prac ID Holder – Ordering & Interpreting Laboratory Tests
Member of the Alberta Pharmacists Association
Member of the Canadian Pharmacists Association
Member of the International Society of Travel Medicine
Member of the International Association for Medical Assistance to Travellers
Member of the College of Psychiatric and Neurologic Pharmacists
RELIEF PHARMACISTS
We are open daily, except on Christmas, New Year, Family Day, Canada Day, Thanksgiving Day, & Remembrance Day. Therefore, we do use the services of relief pharmacists, who come to cover shifts for our pharmacy manager whenever he is not available to work.
PHARMACY TECHNICIAN
Dija joined our team in August 2023. We are happy to have her as a new addition to our team.
PHARMACY ASSISTANTS
We are fortunate to have a dedicated, caring, and friendly team of pharmacy assistants, namely Don, Michelle, and Nav. We cannot thank them enough for all their commitment and hard work. The story of Brintnell Pharmacy and Travel Clinic would not be complete without mentioning the sterling work and character of both Jacquie, Halima, Andrea, Hafsa, and Chinedu, who both worked to serve our community as pharmacy assistants from 2019 to 2020, from 2020 to 2021, and from 2021 to 2023 respectively. The staff and management of Brintnell Pharmacy and Travel Clinic will forever be grateful to them.
You can be sure our team is always here to help!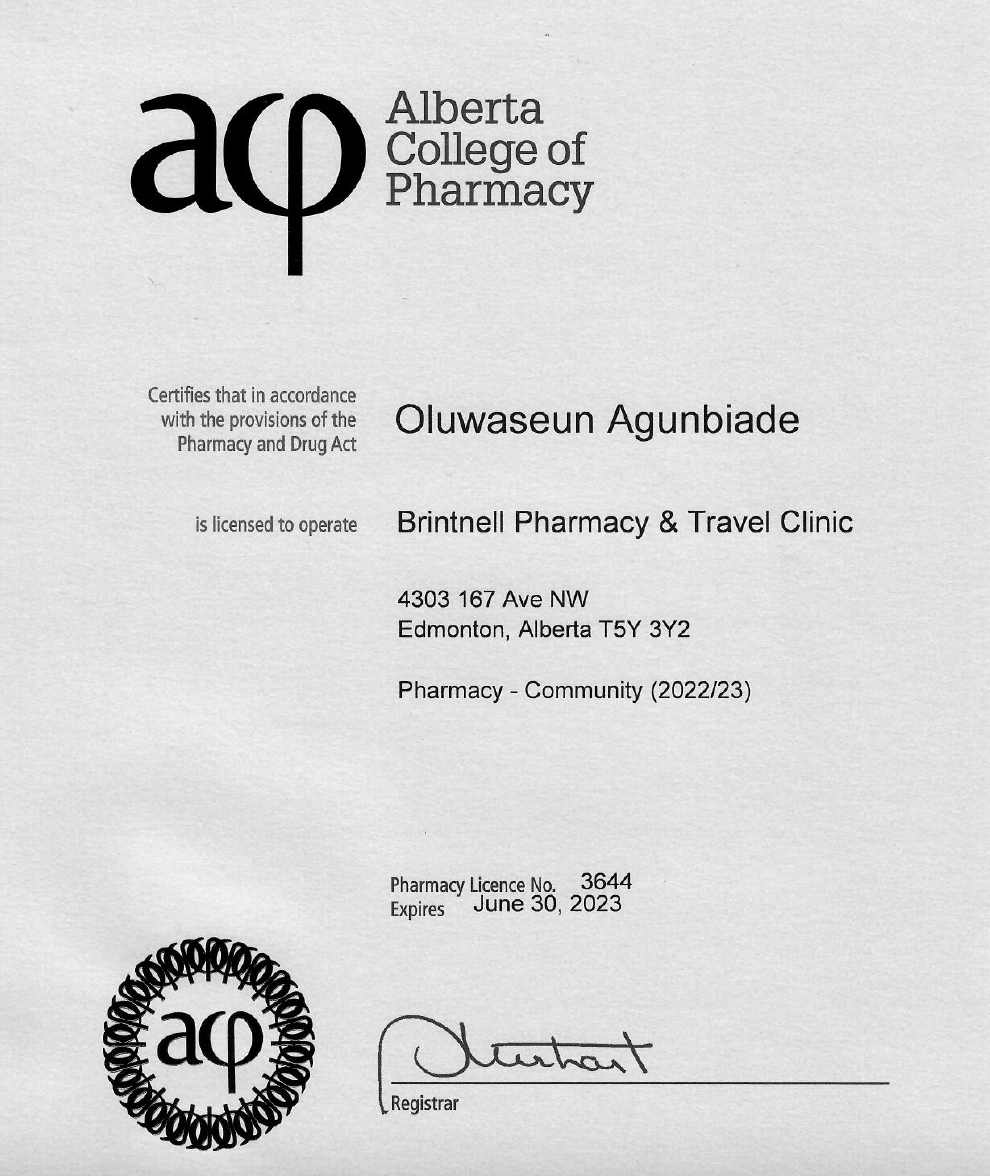 "The licensee is required to provide, on the request of a patient, the name and practice permit number of any regulated member who provides a pharmacy service to the patient or who engages in the practice of pharmacy with respect to a patient."